The other day, my wife posted her "
freebie list
". None of these choices surprised me; her list has been pretty consistent over the years. This, of course, prompted me to compose my list. Sounds like fun, right?
We always joke about "the list" and who's on it. It's a fun game of "what if" that is never really taken seriously (well, usually - I did have a relationship broken-up once by someone who looked uncannily like David Lee Roth, who happened to be on her list).
So, who do I include on my list? The problem is, my list always seems to change depending on my mood. Ooh, she's on my list! So is she! And her too! What the hell, put him on my list too! How many do we get again?
Putting the list down in a blog is akin to laminating it and putting it in your wallet. This requires some thought. Should I be so obvious as to include Scarlett Johansson and J. Lo? What about the pure fantasy women like Marilyn Monroe, Myrna Loy and Betty Rubble? I just don't feel right including Anne Hathaway and Melissa Joan Hart.
That being said, here's my list...
Christina Applegate

On my list from the moment Kelly Bundy turned of age
. I was so happy to see her new show doing well. She's a classic beauty with that certain girl-next-door quality. It seems almost a shame to include her on such a crass list. Almost.
Rosario Dawson
While Rachel Leigh Cook was adorable as Josie, Rosario's Valerie brought the real sex appeal to
Josie & The Pussycats
. Follow that with dancing and singing in
Rent
and kicking ass in
Grindhouse
, and she easily earns a spot on my list.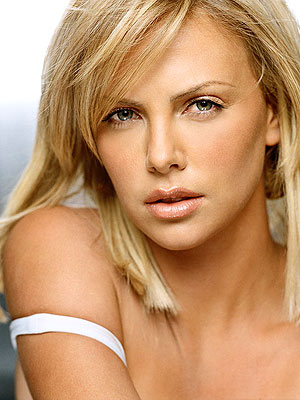 Charlize Theron


Beautiful, smart, talented. What's not to like about Charlize Theron?

I loved that she took on the

Monster

role, and fought hard for it. Very brave. Which brings me to the next entry on my list...



Christina Ricci


What can I say? She appeals to my quirky side. Sure, she's done family/children features like

Ca
sper

and

Speed Racer,

but she's done some pretty raunchy stuff too. I haven't seen

Black Snake Moan

because, frankly, I'm scared. She never seems one to play it safe.

Her alternates would be Bjork and Helena Bonham Carter.

Queen Latifah
This woman is just downright gorgeous. She exudes confidence from every pore. Her voice is wonderful and she's not afraid to be exactly who she is. Oh, and the curves!
So there you have it. That's my list. Some of my favorite TV and movie "girlfriends" are notably absent: Jami Gertz, Dinah Manoff and Ann-Margaret spring immediately to mind. Oh, and Valerie Bertinelli. And Janeane Garofalo. And...
I love you honey :)